Derby Ruote Castors & Wheels - Official UK Distributor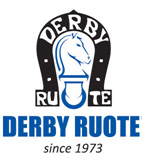 We are happy to announce we are the UK's sole distributor of Derby Ruote Castors & Derby Ruote Wheels from our Ross Handling warehouse in Leicestershire.
Both our companies have been trading since the 1970's and our combined product knowledge means you can be satisfied we will supply and deliver the right Derby Ruote Castors and Derby Ruote Wheels for your requirements. We pride ourselves in delivering quality products and the Derby Ruote Range is an excellent fit into our product portfolio. With a quality product, and a greater range of load ratings combined with competitive pricing the Derby Ruote Range is hard to beat!
We specialise in supplying from stock at great prices on a next day delivery service. For bulk enquiries Contact us today via telephone or email for delivery tomorrow!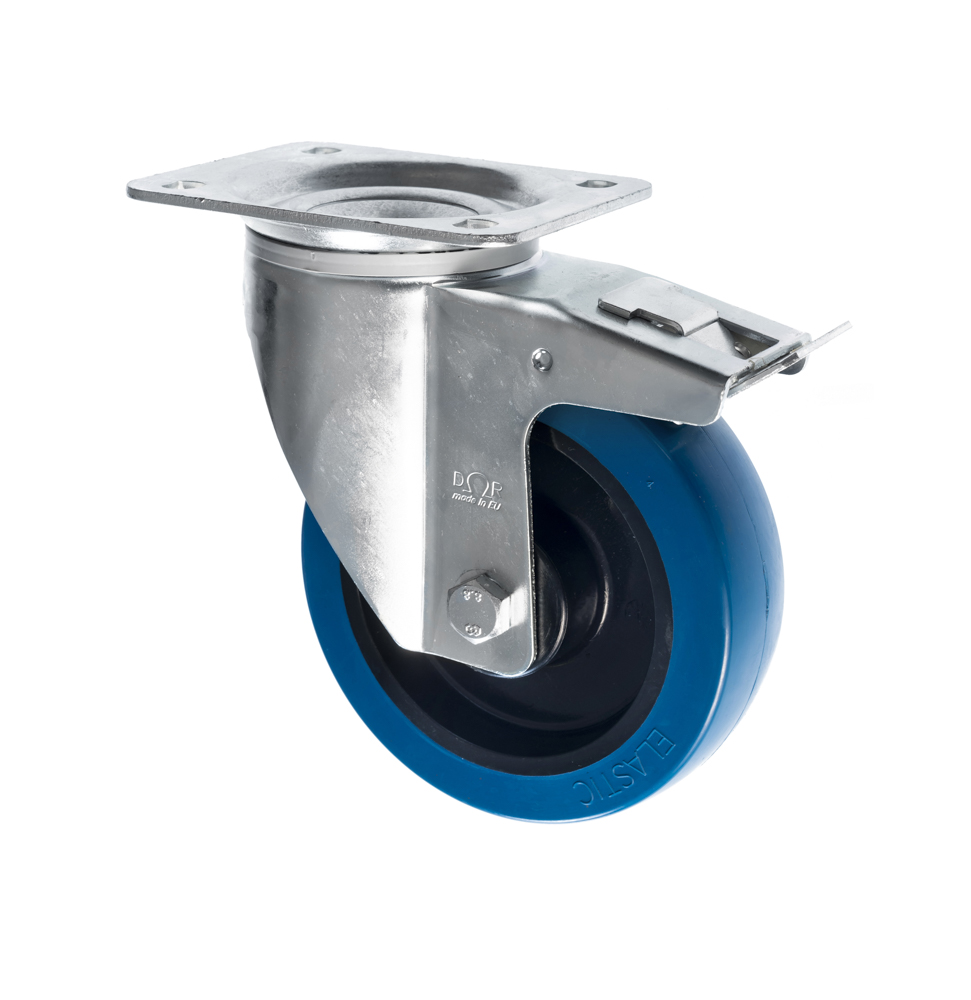 DERBY RUOTE INDUSTRIAL RANGE - TSZ Castors
TSZ7 Castors
Our most popular range of Industrial Castors from Derby Ruote and Ross Castors. The TSZ7 is a range of industrial castors with a double ball bearing top plate fitting for ease of fitting, movement and durability. We can offer Derby Ruote castors with a range of wheels from Rubber Wheels, Nylon Wheels Heat Resistant Wheels, Electrically Conductive and Polyurethane Wheels. Sizes vary from 80mm diameter Derby Ruote Wheels to 200mm diameter Derby Ruote Wheels, and every size inbetween. With load ratings from 200kgs per castor up to 400kg this range from Derby Ruote has become the most popular for Industrial Castors. We call them our 3360 Range, for more information visit our 3360 Castors Page.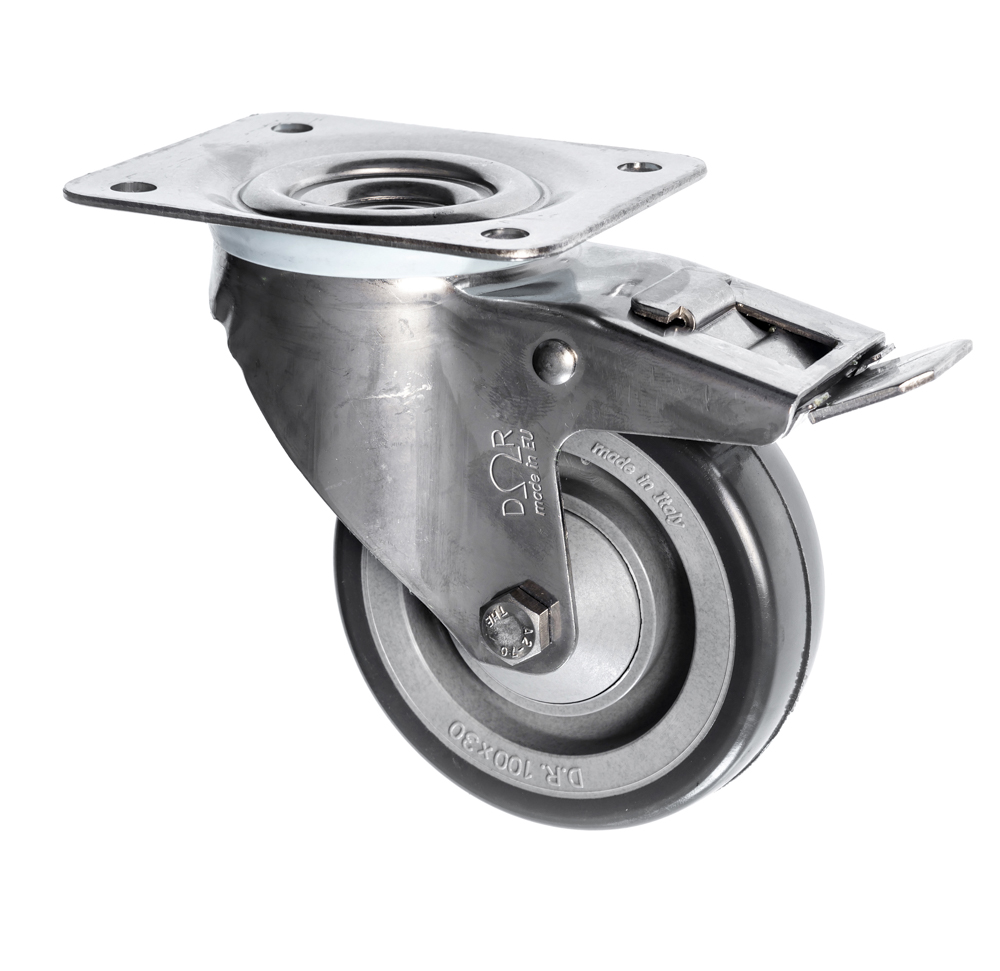 DERBY RUOTE STAINLESS STEEL CASTORS - TSX Stainless Steel Castors
TSX Stainless Steel Castor
Derby Ruote Castors is renowned for its quality Pressed Stainless Steel Range. The TSX7 range of stainless steel castors are available as either top plate or bolt hole fitting. All these TSX7 Stainless Steel castors are available with a range of wheels types and sizes to suit your application. From 80mm diameter wheels up to 200mm diameter wheels we have a stainless steel castor to meet your needs. For Stainless Steel Castors visit our comprehensive page of Stainless Steel Castors.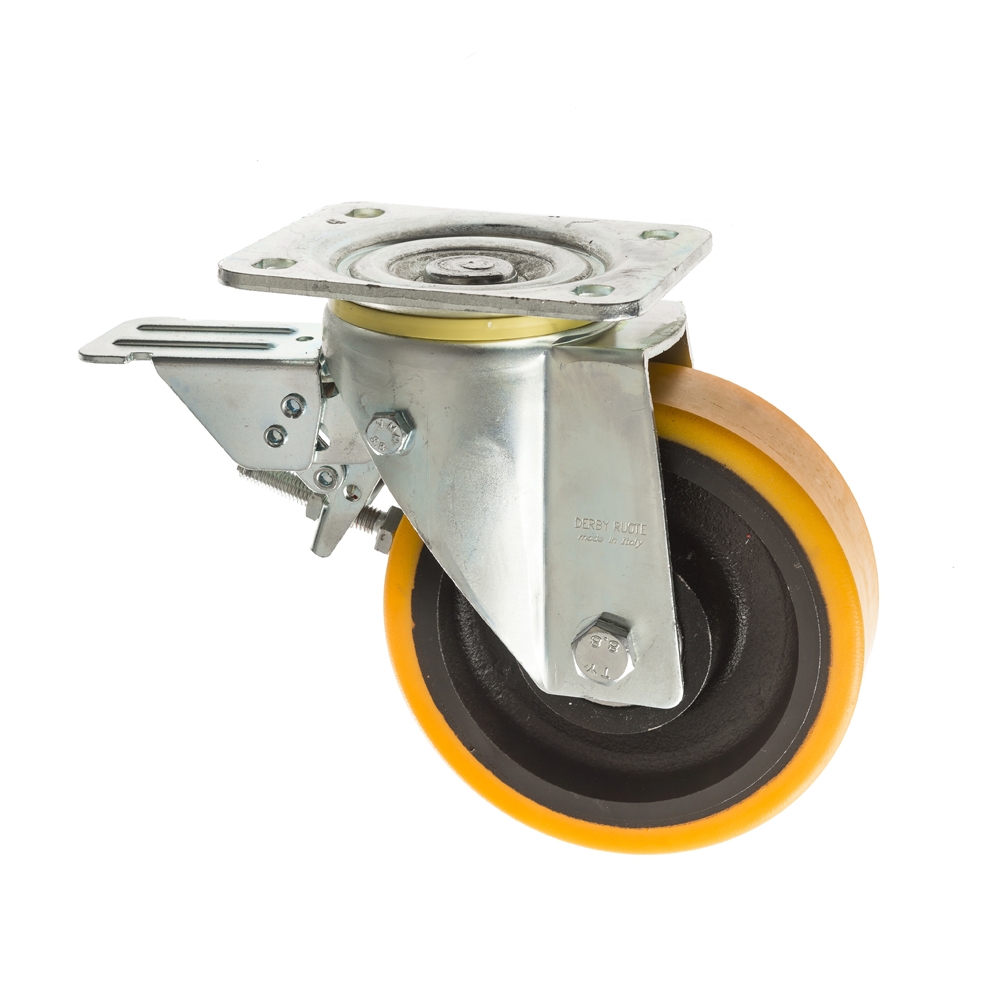 DERBY RUOTE HEAVY DUTY CASTORS - TPZ SERIES
TPZ8 Heavy Duty Polyurethane Castors
The Heavy Duty Range of Castors and Wheels from Derby Ruote are for moving equipment and machinery up to loads of up to 2 tonnes. Each of the TPZ8 Castors can carry from 250kg up to 800kgs depending upon which wheel option you choose. The Derby Ruote Wheel options are Black Elastic Rubber, Heavy Duty Nylon and Heavy Duty Polyurethane. The most popular of all these TPZ Series is the Polyurethane Castor with an aluminium centre which can take load capacities of up to 800kg per castor. We call this range our 5000 Series.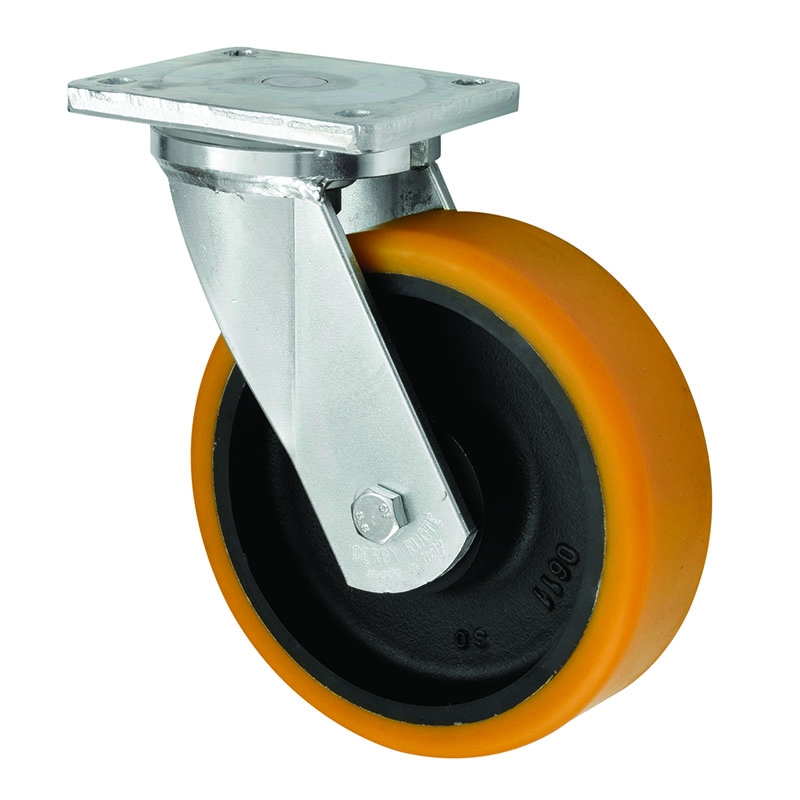 DERBY RUOTE FABRICATED CASTORS - ESZ SERIES
ESZ5 & ESZ8 SERIES
The ESZ8 Series of Very Heavy Duty Fabricated Castors from Derby Ruote are the highest of quality, strong and durable range of castors on the market. With a choice from black rubber castors, polyamide and heavy duty polyurethane the load capacities for this ESZ Castors range from 600kgs up to 6 tonnes per castor. These really are the workhorses of the Derby Ruote Range, and different wheel options enable you to carry different load capacities. The fabricated and welded steel frame provides the base for its strength and carrying capacity. We call this range our 6000 Series
DERBY RUOTE EXTRA HEAVY DUTY FABRICATED CASTORS - EGZ SERIES
EGZ5 CASTORS
The Derby Ruote EGZ5 Series of castors are the powerhouse castors and wheels from the Derby Range. With a welded fabricated steel frame, tapered roller bearings and threaded kingpin makes these EGZ castors the most durable and heavy duty for extreme environments. The double twin wheel of either polyamide nylon, black elastic rubber or polyurethane makes these towing castors hard to beat. With extreme carrying capacities, and the most competitive prices in the markey our EGZ5 Range is hard to beat. We call this range our 8000 Series.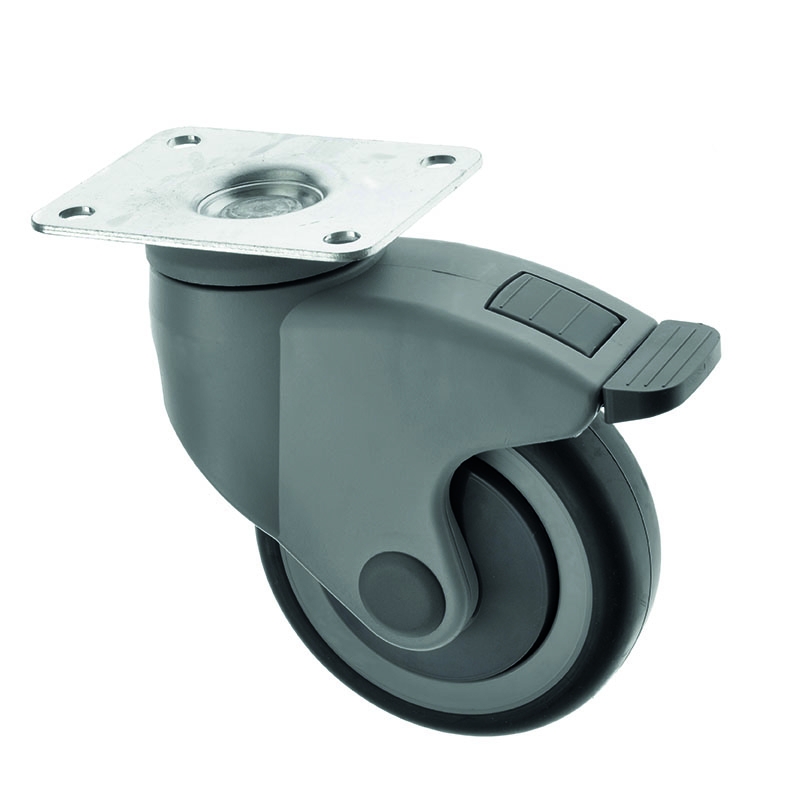 DERBY RUOTE SYNTHETIC CASTORS - S2Z SERIES
S2Z SYNTHETIC CASTOR SERIES
We also offer a range of Synthetic Medical Castors from Derby Ruote with a range of fitting options ideal for medical equipment. With competitive prices and next day delivery, we call these castors our GS Medical Castors.