Filter By
Category
Manufacturer
Wheel Colour
Wheel Material
Castor Type
Wheel Diameter (mm)
Load Capacity (kg)
Bolt Hole Light Duty Casters
About Our Bolt Hole Light Duty Casters
Our light duty range of bolt hole casters are a versatile and budget range of casters that can pack a punch! This range of casters include our best selling FS Series bolt hole casters and our 310 Series of Institutional bolt hole casters. These light duty bolt hole casters have a single bolt hole for attachment rather than a square top plate top plate. Ideal for attaching to trolleys, equi... Read More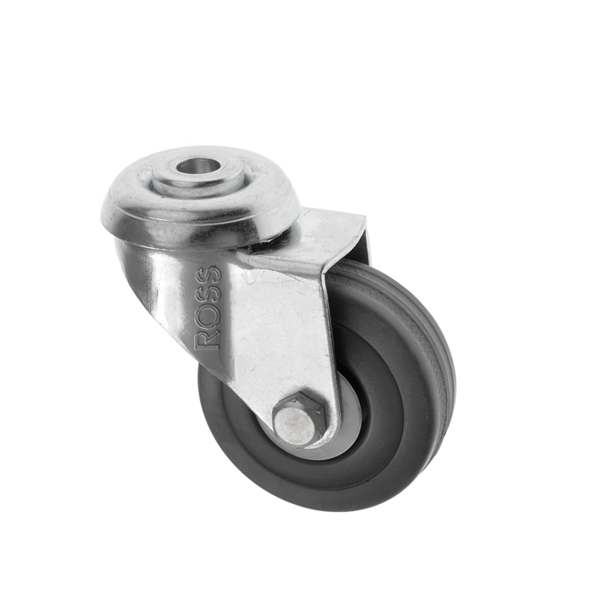 About Our Bolt Hole Light Duty Casters
Our light duty range of bolt hole casters are a versatile and budget range of casters that can pack a punch! This range of casters include our best selling FS Series bolt hole casters and our 310 Series of Institutional bolt hole casters. These light duty bolt hole casters have a single bolt hole for attachment rather than a square top plate top plate. Ideal for attaching to trolleys, equipment, tubular furniture legs and display stands, with either an M8 or M10 bolt. You can choose either a 50mm black plastic or rubber casters housed in a medium pressed steel housing. Bolt hole casters are small and strong. The general rule of thumb is to choose a softer rubber wheel on a hard floor surface and a harder plastic wheel for a soft carpeted floor.
These light duty casters can be supplied either with or without brakes and are popular for a wide range of furniture, equipment, trolleys and display cases. If you need the caster to take more weight you can move up to the 310 Series and choose from black plastic and grey non marking rubber casters from 50mm diameter wheels up to 100mm in diameter. These versatile bolt hole casters from our 310 Series can be teamed up with our tubular adaptor accessories for attaching casters to hollow round or square tubing, and can be supplied either with or without a brake. A verstaile and light duty range of bolt hole casters!
X
Receive 10% Off your order now
*
* Terms & Conditions apply.
To view your previously purchased products click here (Note: You'll need to be logged in to view your previously purchased product list)
Recently Viewed ()

Previously Purchased

Contact Us