Filter By
Category
Manufacturer
Colour
Tube Inserts Type
Outside Diameter(mm)
Thread Size
About Our Tube & Fittings
At Ross we have 1000's of tube inserts and tube fittings to choose from in all shapes and sizes. Our extensive range of tube inserts, tube end caps, tube plugs and tube connectors will meet you requirements whether your tube is imperial or metric size. We have tube inserts and tube fittings to suit so many sizes! If its a tube cap inserted into tube to neatly finish off of the tube end, or i... Read More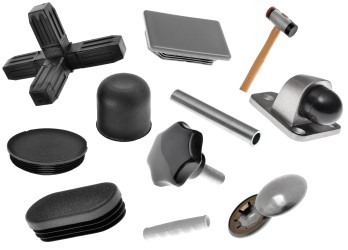 About Our Tube & Fittings
At Ross we have 1000's of tube inserts and tube fittings to choose from in all shapes and sizes. Our extensive range of tube inserts, tube end caps, tube plugs and tube connectors will meet you requirements whether your tube is imperial or metric size. We have tube inserts and tube fittings to suit so many sizes! If its a tube cap inserted into tube to neatly finish off of the tube end, or if its a tube ferrule to fit over the tube to prevent floor damage, we will have it in stock. Our caps, ferrules and plugs are suitable for such a wide variety of applications from furniture to display equipment, from machinery to roof racks. If you have a space to fill, our tube inserts and tube caps will meet your needs!
With 1000's in stock ready for dispatch we can get these to you efficiently and quickly. Our no quibble returns policy means if its not quite right for you you can return them for a full refund, or exchange them. Our popular range of threaded tube inserts are ideally combined with our ranges of adjustable feet. These tube components are suitable for height adjustment on furniture and all types of equipment from work benches to office desk. If you are unsure of the specific tube insert or tube fitting you require we do have a quick reference and measuring guide. So if its door stops to tube caps, bolt protection caps to tube connectors, Ross has the products in stock, ready for delivery to you!
X
Receive 10% Off your order now
*
* Terms & Conditions apply.
To view your previously purchased products click here (Note: You'll need to be logged in to view your previously purchased product list)
Recently Viewed ()

Previously Purchased

Contact Us