Filter By
Category
Castor Type
Colour
Load Capacity (kg)
Manufacturer
Wheel Colour
Wheel Diameter (mm)
Wheel Material
Low Level Castors and Scene Shifter Castors
About Our Low Level Castors and Scene Shifter Castors
Low level castors are 50mm diameter wheels in a low level castor frame that has an overall height of 64mm. These small and discrete low level castors are suitable for fire proof cabinets, as piano castors, safes and heavy pieces of machinery and equipment that require low level castors. With a choice of a polyurethane wheel, nylon wheel or cast iron wheel this sturdy twin wheel low level c... Read More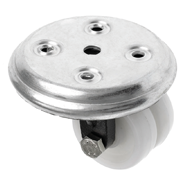 About Our Low Level Castors and Scene Shifter Castors
Low level castors are 50mm diameter wheels in a low level castor frame that has an overall height of 64mm. These small and discrete low level castors are suitable for fire proof cabinets, as piano castors, safes and heavy pieces of machinery and equipment that require low level castors. With a choice of a polyurethane wheel, nylon wheel or cast iron wheel this sturdy twin wheel low level castors can take weights up to 270kg each.
X
Receive 10% Off your order now
*
* Terms & Conditions apply.
To view your previously purchased products click here (Note: You'll need to be logged in to view your previously purchased product list)
Recently Viewed ()

Previously Purchased

Contact Us