Filter By
Category
Castor Type
Load Capacity (kg)
Manufacturer
Wheel Colour
Wheel Diameter (mm)
Wheel Material
Industrial Castors Bolt Hole Medium Duty
About Our Industrial Castors Bolt Hole Medium Duty
This is by far our most popular range of bolt hole castors, as not only can we offer you a variety of sizes of bolt hole castors, they can also come as complementary sets of swivel castors and braked castors. With 5 different wheels to choose from there will be a bolt hole castor in this range that suits your application. These castors are zinc plated pressed steel for durability, and have... Read More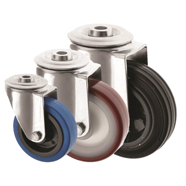 About Our Industrial Castors Bolt Hole Medium Duty
This is by far our most popular range of bolt hole castors, as not only can we offer you a variety of sizes of bolt hole castors, they can also come as complementary sets of swivel castors and braked castors. With 5 different wheels to choose from there will be a bolt hole castor in this range that suits your application. These castors are zinc plated pressed steel for durability, and have a bolt hole attachment rather than a square top late, suitable for a single M12 bolt.
This 4000 Series of bolt hole castors can also be teamed up with our tubular adaptors accessories, which means these castors can easily and securely be attached to round or square hollow tubes. This makes these medium duty bolt hole castors suitable as furniture castors, equipment, stands, framework, trolley castors and conveyor castors. They are a flexible medium to heavy duty castor that can take loads, depending upon its size, up to 200kg each! With either a swivel bolt hole castor or a swivel braked castor these can team up on any application.
X
Receive 10% Off your order now
*
* Terms & Conditions apply.
To view your previously purchased products click here (Note: You'll need to be logged in to view your previously purchased product list)
Recently Viewed ()

Previously Purchased

Contact Us