Filter By
Category
Manufacturer
Colour
Wheel Colour
Wheel Material
Castor Type
Wheel Diameter (mm)
Load Capacity (kg)
BUDGET Light Duty Castors with Top Plate Fitting
About Our BUDGET Light Duty Castors with Top Plate Fitting
Discover our range of light duty castors which feature a top plate fitting. Throughout this range, you'll find a selection of cost-effective caster whichs which are suitable for a range of applications. This range of casters includes our best selling FS Series, our 314 Series of institutional castors and our popular... Read More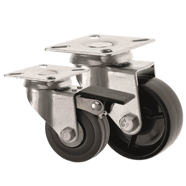 About Our BUDGET Light Duty Castors with Top Plate Fitting
Discover our range of light duty castors which feature a top plate fitting. Throughout this range, you'll find a selection of cost-effective caster whichs which are suitable for a range of applications. This range of casters includes our best selling FS Series, our 314 Series of institutional castors and our popular budget beating range of light-duty industrial castors from our 2260 Series. These light-duty casters offer an entry-level option, that suits both domestic and industrial purposes. With wheel diameters starting from 50mm reaching to 150mm from a variety of materials including rubber, plastic, nylon and polyurethane, the choice is yours. These light-duty castors can be supplied either with or without brakes and are popular for a wide range of furniture, equipment, trolleys and display cases.
If you need the castor to take more weight you can move to the 314 Series and choose from black plastic and grey non-marking rubber castors up to 100mm in diameter. For more industrial applications our nylon light duty castors offer the greatest flexibility, as we can supply swivel castors, fixed castors or combined swivel and wheel braked castors. Our foot-operated brakes simultaneously brake both the swivel castor head and the wheel for maximum control! This light duty industrial range has options of either a nylon wheel, a non marking grey rubber wheel or a black rubber wheel. These budget beating light industrial castors offer a wide range to choose from and our most popular nylon castors can take up to 150kg per castor.
X
Receive 10% Off your order now
*
* Terms & Conditions apply.
To view your previously purchased products click here (Note: You'll need to be logged in to view your previously purchased product list)
Recently Viewed ()

Previously Purchased

Contact Us