Wheelbarrow Wheels - Choosing the Right One
If you find yourself in a situation where your wheelbarrow wheels or trolley wheels are suffering from corrosion or perhaps have picked up a puncture along the way, then there are cheaper solutions than simply replacing the wheelbarrow. Replacing the wheelbarrow wheel or finding a puncture proof replacement are much simpler and cost effective solutions. But it's not always easy finding the exact replacement wheel that is going to work for your situation.
That's why we've put together this quick and easy guide to choosing the right wheelbarrow wheels or trolley wheels for your situation, saving you both time and money. Simply walk through this list of key measurements noting down the measurements at each stage and then use those measurements when browsing the Ross Castors range of wheels. If you get stuck at any point or need some expert advice for your situation you can call us on 0116 276 4987.
Overall Diameter of the Wheel
What is the overall diameter of the wheel? (From outside edge to outside edge)
Diameter of the Hub Bore
What is the Hub Bore?
The hub bore is the diameter of the hole in the centre of the wheel.
The Hub Length
What is the hub length?
This measurement is the width of the hole running through the centre of the wheel. Handy Tip! Stick your pencil through the hole in the middle of the wheel and measure how far it goes through!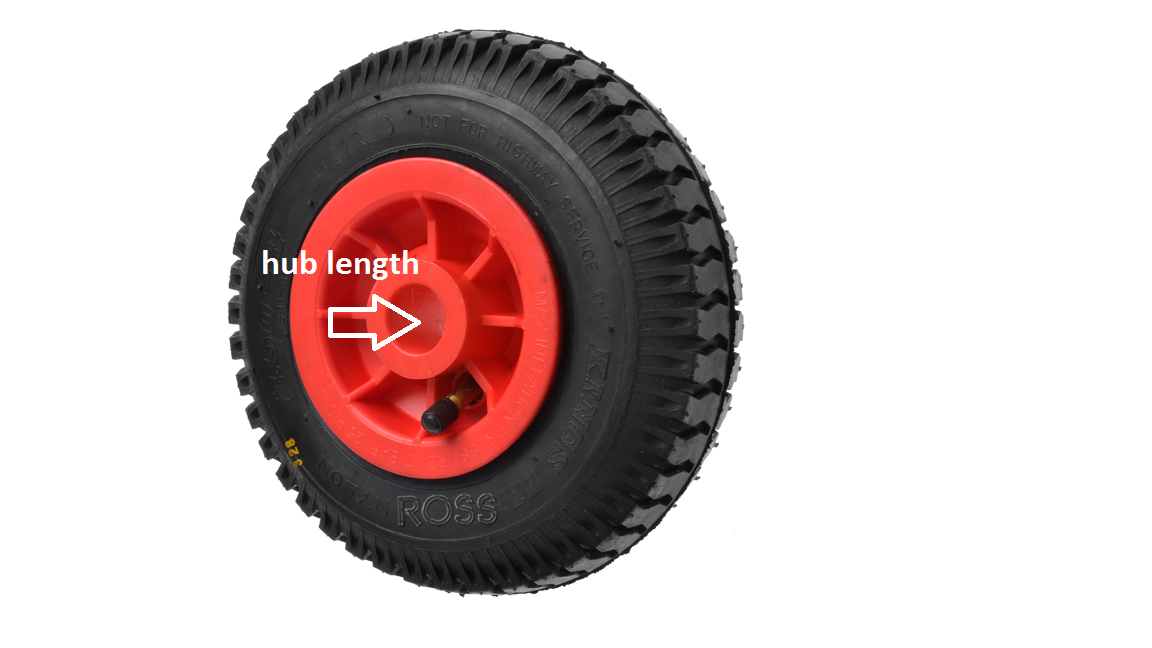 Bearings or No Bearings?
We can offer you wheelbarrow wheels and trolley wheels with or without bearings, with plastic wheel centres or metal, and even a range of puncture proof wheels to suit your requirements.
Ross Castors is a leading supplier of wheelbarrow wheels, trolley wheels, pneumatic wheels and an extensive range of other wheels to suit your situation. With 10,000's of products in stock, we strive to deliver on our promise of next day delivery giving you the certainty and confidence to get on with the job. Backed by over 40 years experience in the castors and wheels industry, we have developed an extensive range of products to suit your requirements and become a one stop shop for many customers. For expert advice and customer service, call us on 0116 276 4987.