Choosing The Right Wheels
How to Measure Wheels
Choosing the right wheels applies to your castor selection and also if you just want to purchase any of our wheels. Choosing the right wheel for the job can make such a difference. To simplify your wheel selection we have highlighted a number of factors for you to consider
1. Wheel Diameter – the larger the wheel the easier it is to move and the more weight it can carry. Measure the diameter of the wheel from outside edge to outside edge.
2. Hub Bore – is the diameter of the hole at the centre of the wheel is an important measurement. To double check you can measure the diameter of your axle and the measurements should be the same. This does vary in different wheels and the hub bore can be reduced to suit your application with the addition of bearings, or collars and tubes. Please have a look at our accessories page for more information on reducing the hub bore diameter.
3. Wheel Load Capacity – all of our wheels have been tested and are able to carry the specified load capacities. Look for the symbol. Weight bearing abilities can be affected by floor surfaces and amount of use overtime. Overloading wheels will cause them to fail!
4. Tread Width – is the width of the wheel that touches the floor surface. Different types of wheel have differing tread widths. Wide tread wheels are ideal for outdoor environments.
5. Hub Length – this is the width of the hub bore , and can be measured as the width of the centre of the wheel. Getting the right hub length is important, because if you purchase a wheel with the hub bore being too small the wheel will wobble on the axle. If the hub length is too big it won't fit onto your axle. All our wheels that fit our castors are designed to suit and delivered ready assembled to you, so you don't have to worry!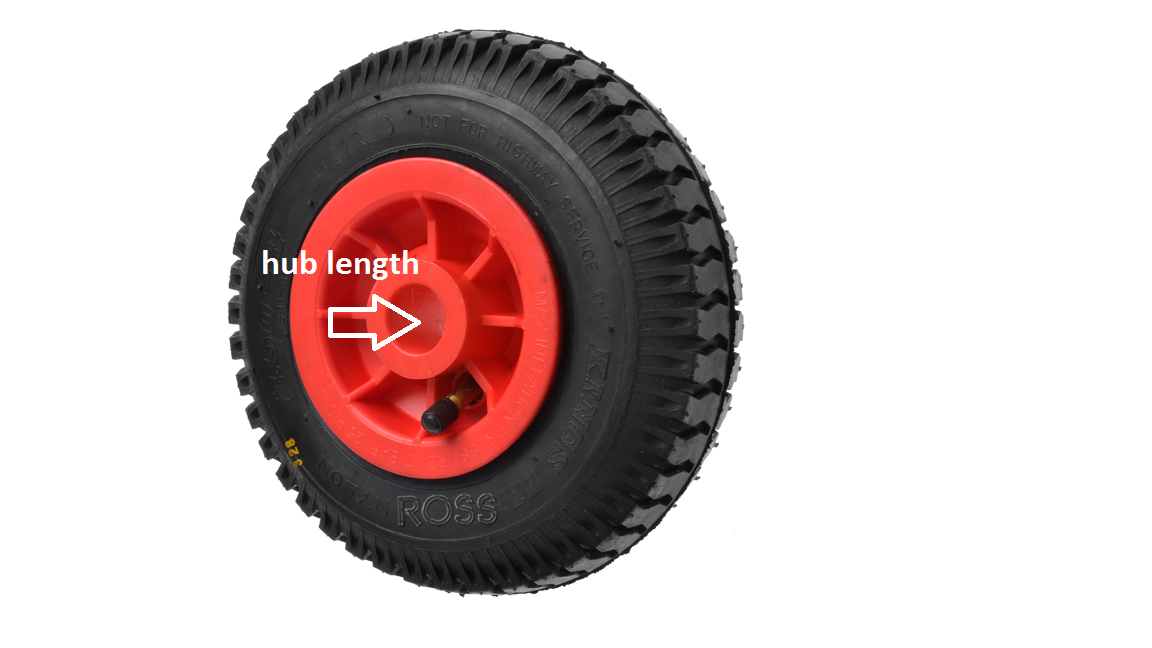 6. Wheel Type – Wheels can be simply categorised into 2 types, soft tread wheels and hard tread wheels. The general principle is hard tread wheels on softer floor surfaces, and soft tread wheels on harder floor surfaces. This principle reduces the rolling tractive resistance and makes the wheels easier to move.
7. Hard Tread Wheels – such as Nylon Wheels, Polypropylene Wheels, Phenolic High Temperature Wheels and Cast Iron Wheels are easiest to manoeuvre, as they have a lower rolling resistance against the floor surface. They are durable, strong and long lasting, depending upon their application. They can at times be considered to be noisy and can damage some floor surfaces. But these hard tread wheels remain our best sellers for every day applications.
8. Soft Tread Wheels – such as Solid Rubber Wheels, Pneumatic Rubber Wheels, High Temperature Rubber Wheels and Polyurethane Wheels. Soft Tread Wheels are generally kinder to the floor surfaces, make less noise and some are even non marking rubber wheels. Polyurethane wheels tend to sit in-between the two types of wheels, as they have a hard nylon, cast iron or aluminium centre with a softer polyurethane tyre bonded on. This makes the polyurethane wheels some of the most versatile wheels in the range.
9. High Temperature Wheels – we offer a range of hard tread phenolic resin temperature resistant wheels along with a soft tread high temperature rubber wheels.
10. Bearings – there are a number of bearings to choose from depending upon your wheel type, load ratings and application.
Plain Bearings – Wheels with no bearings
Roller Bearings – A bearing collar containing needle roller bearings, often the most common and well used bearings. Most suitable for medium duty applications, making the wheel easier to move.
Ball Journal Bearings & Tapered Roller Bearings – precision bearings, for heavier load applications
Stainless Steel Bearings – are also available for outdoor environments and food manufacturing plants.