Flexello Castors & Wheels
Browse our range of Flexello Castors and Flexello Wheels. Buy Flexello casters and wheels at competitive prices from Ross. The most popular range of Flexello castors is our 61 Series, which is a range of industrial and general purpose castors from Flexello. Avaialble in either white nylon, polyurethane, rubber, phenolic resin and cast iron these castors 61 Series range are available from 2 inch diameter wheels up to 6 inch sizes.
* Comprehensive Range of Flexello and Revvo Castors and Wheels
* We can product match your existing Flexello products, with the same brand or offer a cheaper alternative
* Expert Advice
* Load capacities 50kg up to 10 tonnes
For more help and advice from our team of experts call or e mail your enquiry to us!

XL SERIES
A range of light duty castors, available in a zinc or chrome finish and with a choice of a 3", 4" or 5" polypropylene or grey rubber wheels. The XL Series castor can be supplied with 2 different fitting options, either a M10, M12 bolt hole or top plate fitting. Castors can be supplied spring loaded, footbraked or with a combined swivel and wheel brake. Load capacites range from 45Kg to 125Kg.
11 SERIES
Medium duty pressed steel, zinc electro-plated castors. Offering 4" or 5" wheels in rubber, polypropylene or polyurethane with or without roller bearings. Can be supplied with either a top plate, M10 or M12 bolt hole. Footbrake and combined swivel and wheel brake versions available. Load capacities range from 70Kg to 150Kg.
22 SERIES
A comprehensive range of medium duty castors covering 4",5",6" and 8" wheel diameters with rubber, polyurethane and nylon treads available with options of cast iron or nylon centres. Fitted with either a top plate or M12 bolt hole. A footbrake or a combined swivel and wheel brake are also offered. Load capacities 160Kg to 500Kg.
61 SERIES
The most popular of the flexello castors ranges, the 61 series offers castors from as small as 2" and up to 6" in diameter. Choose from a wide range of wheels including polyurethane, rubber, nylon, phenolic resin and cast iron. The 61 series also offers varied fitting types, top plates, triangular plate fittings and a threaded stem and nut fitting in some sizes. Footbrakes are available on the larger sizes from 3" and upwards. Load capacities start from as little as 27Kg up to 680Kg.
55 SERIES
A heavy duty pressed steel castors range. 55 series castors are available with a 6" or 8" diameter wheel. Castor wheels available are nylon, cast iron or cast iron with rubber or polyurethane. The 55 series castor range only comes with a top plate fitting and is available with a combined swivel and wheel brake. Load capacities start from 400Kg upto 1,090Kg.
SL SERIES
A versatile heavy duty fabricated range of castors offering a multitude of options. Castor wheel diameters range from 4" to 8" and are available in cast iron, nylon, rubber and polyurethane. The wheels can be fitted with plain, roller or tapered bearings. The SL series castors braking options are wheel brake, combined swivel and wheel brake and a 2 way directional lock. Load capacities range from 160Kg to 600Kg.
GT SERIES
The GT series is a range of heavy duty fabricated castors fitted with a single ball bearing swivel head with grease nipple for easy maintenance. Ideal for handling power towing applications at speeds of upto 25Kph. Available with 6", 8" or 10" diameter wheels. Castor wheels available are rubber on cast iron, polyurethane on cast iron, cast iron and polyurethane on nylon. The swivel castors can be fitted with a footbrake or 2 way directional lock. Load capacities go upto 1,270Kg and down to 370Kg.
KV SERIES
Available in 6", 8", 10" and 12" this heavy duty fabricated castor is fitted with a taper roller bearing and ball bearing swivel head. There are three wheel options available cast iron, rubber on cast iron or polyurethane on cast iron wheels. The swivel castors can be fitted with a two way directional lock which converts swivel castors to fixed castors by the use of a spring loaded plunger. The KV series can be power towed at speeds of up to 24Kph, they are also available for high temperature applications when fitted with the cast iron wheels. Load capacities range from 400Kg to 1,270Kg.
EH SERIES
An extra heavy duty fabricated range of castors with a double tapered roller bearing swivel head. Ideal for very heavy duty applications or power towing upto 36Kph. Wheel sizes available range from 6" to 16" in polyurethane with cast iron centres and 6" to 10" in cast iron. Two way directional locks and expanging hub brakes are available on some sizes. Load capacity on this range is up to 6,120Kg in optimum conditions.
TOW CASTORS & SHIPPING CONTAINER CASTORS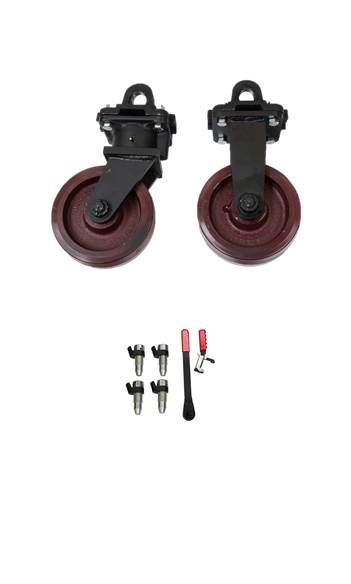 Flexello towcastors enable ISO freight containers to be moved quickly and efficently without the use of equipment such as cranes, gantries and side loading fork trucks. Flexello towcastors come as a complete set comprising of 2 swivel and 2 fixed castors. The heavy duty fabricated castors have special adaptor plates that lock securly into the corner of ISO containers using the supplied quick action securing screws. Also supplied is a lifting handle and ratchet spanner to facilitate easy use. Each Flexello towcastor set come in 2 sizes a 10" diameter wheel with load capcity of 10 tonnes and a 12" version with a load capacity of 12 tonnes. An optional extra is the patented towbar which is specifically designed to fit into the front of the ISO container corner casting.